BMW e90 in for SuperPro subframe bushes, adjustable rear control arm set and new Lemforder lower spherical bearing joints. All finished off with a fast road 4 wheel Hunter alignment setup. Definitely help this torque monster get some of its power down better!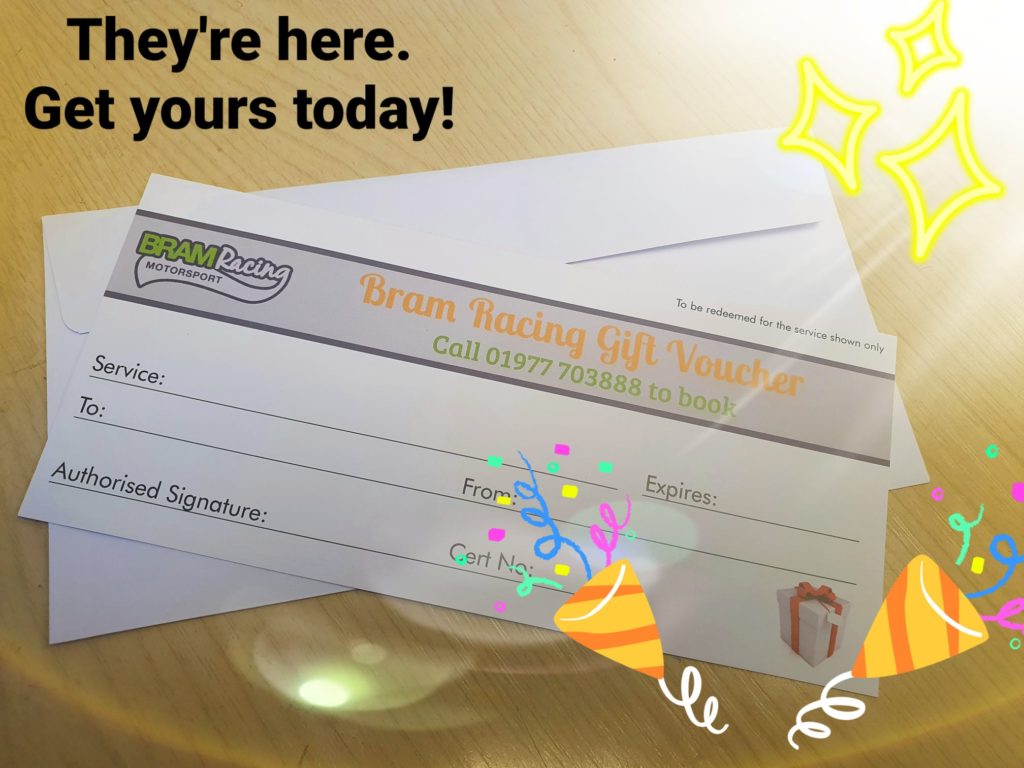 Wondering what to buy that car-mad person in your life for Christmas. Look no further. We now have Bram Racing Gift Vouchers, available all year round too. 
Great for Dyno runs, ECU Re-maps or anything else we do or sell.
Just order for the specific service you want.
Complete with envelope. Can be posted direct to recipient.
Call 01977 703888 to enquire or call into the garage.
ECU RE-MAPPING
Bram Racing are collaborating with Quantum Tuning who have developed a vast range of maps to cover all vehicles.
They can give the following benefits:
15 – 40% EXTRA POWER
8 – 15% IMPROVED MPG
As an upgrade we have the facilities to measure before and after power runs with our hub dyno service, showing the changes that the re-mapping has given, however the benefits are limited to each individual vehicle's capability. The maps are designed to give the vehicle a better driving experience.
We offer various options for your vehicle. Please contact us for price and options.
Where we started out - wheel alignments
After 8 years of supplying and fitting 4×4 parts we decided to change direction and bought a Hunter Wheel Aligner. This is where Brad started his work in the garage, back in 2012 at the tender age of 17, while still at college. From there on, Bram Racing went from strength to strength, building an outstanding reputation for quality workmanship and good customer service.
So why wheel alignment and not just tracking? Well, back before Brad's time in a garage, when cars had only two adjustable front wheels and a fixed axle for the back wheels, the front wheels were 'tracked'. This meant they were aligned to point in the right direction and completely parallel. No adjustment could be made on the back wheels.
Wheel alignment is more complex than that. It ensures the car operates with maximum efficiency, comfort and safety. It achieves this by making sure all four wheels point in exactly the right direction in relation to each other and the direction of travel.
A HUNTER WHEEL ALIGNMENT accurately measures up to 14 PRIMARY ANGLES and compares them with the original specifications detailed by your car manufacturer. If any differences are found they can be corrected by adjusting the car's steering and suspension settings, which helps to maximise fuel efficiency, reduce uneven tyre wear and improve driving comfort and safety.
At Bram Racing we use the latest Hunter hi-res digital camera system, HUNTER HAWKEYE ELITE TD, in our opinion the best on the market. Our focus is on giving a professional, friendly service, making your car behave and feel like new once again.